---
Nowadays being able to protect yourself against knockout drops is more
important than ever before.
---
Almost everyone knows someone who has experienced a spiked drink! Such experiences have long since ceased to be a 'big-city phenomenon' and are now widespread. With the Xantus bracelet you can finally protect yourself, your children, siblings, and friends!

Your Bracelet For A Safe Party
---
Preventative protection and reminder
---
The bracelet deters potential perpetrators in advance and thus acts as a preventative measure. It also serves as a valuable reminder: a quick glance at your wrist reminds you to be alert.
---
---
You can quickly and easily test your drink for the presence of the knockout drop substance GHB (also known as liquid ecstasy). GHB (also known as Liquid Ecstasy).
Place 1-2 drops of your drink on the test-field.
wait for up to 2 minutes.
If the test-field turns blue then your drink contains GHB!
---

The test is quick, easy, and inconspicuous.
---
---
LAB RESULTS: A TOTAL SUCCESS
---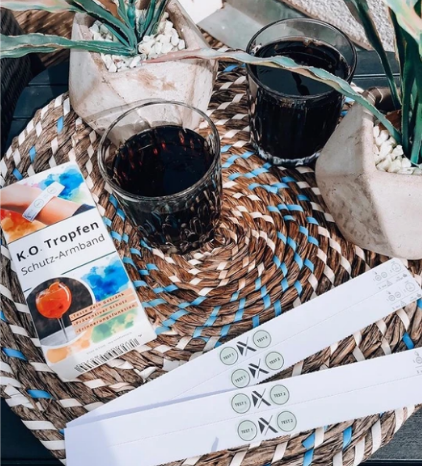 Party? Absolutely, but safely!
Stay safe at parties and enjoy your time with your friends.
---
The bracelet will deter potential perpetrators in advance and thus protect you preventively. It also has a valuable reminder function: a quick glance at your wrist reminds you to be careful.
"As I have personally had experience with knockout drops, I can now finally go out and celebrate comfortably again. I just feel safer with the bracelet."
- Vally -
"Not only is it inexpensive, its inconspicuous. It's always in my handbag. Finally I can protect myself against knockout drops! I highly recommend it because it gives you a completely new feeling of security."
- Susanne -
"As a man, I know what men are like – and I want to protect my daughters from that. When it comes to doing so, Xantus is THE invention and I am grateful to both inventors – Awesome!"
- Pascal -
---
Frequently Asked Questions (FAQs)
---
How common are cases of drink spiking?
Reports of drink spiking cases occur almost on a daily basis. The number of unreported cases in Germany in recent years is estimated at 800,000+ cases – and rising!
How many times can I use the test?
Xantus is a Double-Test. So you can test two drinks per bracelet.
How much protection does the bracelet offer?
To ensure 100% protection, the test would have to be able to test for all conceivable substances and drugs. This is impossible.
The bracelet leads to an enormous gain in terms of security through its test and preventative protection.
It "only" tests for GHB. Is it even reliable then?
Xantus is criticized in a small number of reports for "only" testing for one substance. Theoretically a variety of substances are used as knockout drops to spike drinks. However, the majority of these potential substances are not suitable in practice, as they can be detected by the "victim" or cause "undesired" reactions. From the perpetrator's point of view, GHB is the "ideal" and best-known knockout drop, as it cannot be detected. Often, symptoms similar to those of alcohol appear because those under the effects of GHB can feel as if they were heavily intoxicated. P.S.: A seatbelt can protect you from a lot of things and is a large contributor to road safety. The same applies to parties: With the bracelet you are safer.
GHB was the most recorded knockout drop substance in 2018 (Statistic Police Berlin, Evaluation by hospitals and toxicologists) More and more evidence of GHB victims, 65% increase in the number of victims (2017-2018). Authorities warn of a very high number of unreported cases.
A reliable test for GHB reduces the risk many times over and increases your safety.
As soon as it comes into contact with pure water or rain, the test-field turns blue for reasons of safety. The blue colouring when in contact with pure water and rain is a warning that the test-field has accidentally been contaminated and cannot be used for a further test..For drinks containing water such as juices, beer, wine etc. the test works normally.
---
---